Is Harley®  discontinuing Sportster? This past year, you probably heard concerned riders voicing their concern. Nope, Sportster isn't going away, but some big changes are about to arrive, and they're all for the better. Meet the new Sportster S.
2021 Sportster S Description
The H-D® official website describes Sportster S as "the first chapter of a whole new book of the Sportster saga." It has a rich history and heritage that makes it stand out in hearts and minds. When people think of Sportster, they picture bikes that are stripped down and rugged, basic yet powerful, showy enough to speak to the soul and tough enough to be a top choice for motorcycle racing. The line that started in 1957 is getting more than just a facelift, it's a rebirth, the next step of evolution. Sportster S comes with the following:
Stretched riding position
Forward foot controls
A low seat height
RDRS standard
Brembo brakes front and back
Harley-Davidson® states this is the bike for you if you
Demand top-of-the-line performance and stunning style
Enjoy riding aggressively with sportbike agility and handling
Want to make a statement with a ride that's unlike anyone else's


Sportster S Powertrain
This Iconic 60-degree V-twin comes with the all new Revolution Max 1250T, a liquid-cooled powertrain  that delivers abundant torque and an instantaneous powerband due to its double overhead camshafts and variable valve timing.
The Revolution Max 1250T is the motorcycle's centerpiece. Chief Engineer Alex Bozmosk said, "The Revolution Max 1250 is a clean-sheet, advanced design effort that will carry riders over new horizons with reliability, efficiency and exciting performance."
The engine is also a structural component, cutting down on bike weight (486 pounds shipped) and making the chassis rigid, the center of gravity low and the handling precise.
Sportster S Exhaust
Harley® says the exhaust system was "inspired by the glory days of H-D flat track racing," but we know plenty of riders who think we're still living those days. Whatever your opinion, you'll be a fan of Sportster S's high mount exhaust, with pipes fabricated out of corrosion-resistant stainless steel and designed to protect the rider's legs and flank from high temps. Riders experience pulse-pounding acceleration and unbelievable peak engine horsepower.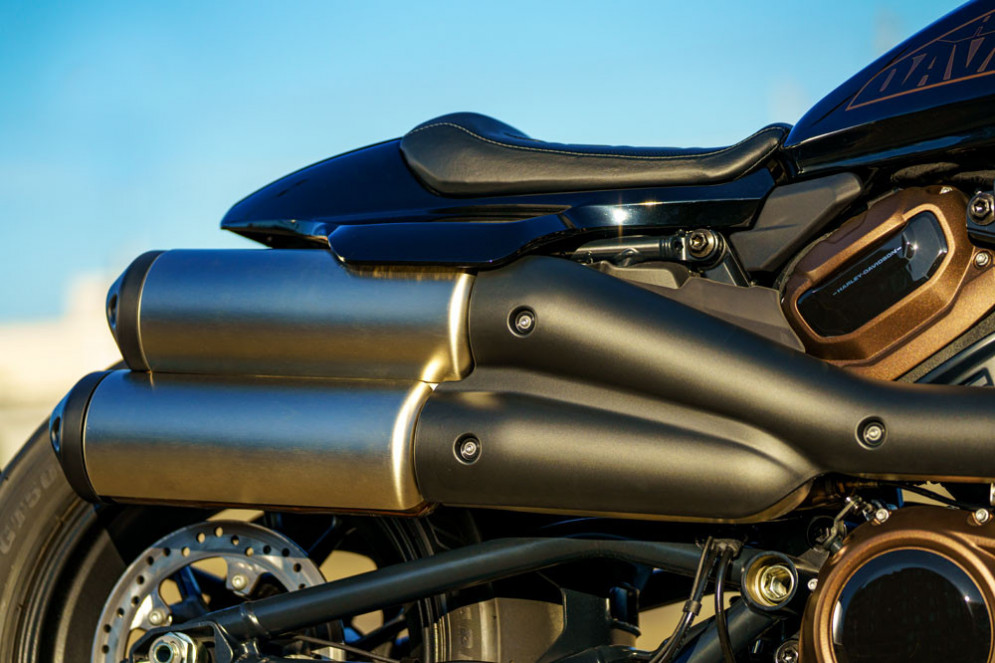 Displays
The look is deceptively simple. You'd think it was old-school instrumentation because of its clean, classic look, but Sportster S comes with a Bluetooth-equipped 4" round display that gives you ride modes, digital gauges, indicators, even turn-by-turn navigation when you use the app. Toggle easily through functions with hand controls. You also get selectable and customizable ride modes, LED lighting and cruise control.
Sportster S Reviews
Most of us are still waiting for a chance to throw a leg over the new 2021 Sportster S, but a few lucky influencers and motorcycle aficionados have already gotten to take it for a spin. While in the past, reviews have been mixed for new Harley® bikes, with this one, they're almost unanimously blown away.
From Cycle World's Seth Richards: "The first thing as you let go of the clutch, you know how light the engagement is. It's really easy to use, the engagement point is neutral so you can just get from stop light to stop light super easy…It's really great. I think Harley should be commended for how well they've done with the way the engine feels and the sensation it gives." He mentions you can feel the bumps, but says the seat is "pretty comfortable." He finishes by saying the new Sportster "Is really significant and it says a lot about who the brand wants to be in the future and for me the future is looking really bright." You can see the full video here.
Jalopnik's Bradley Brownell says he was surprised by how impressed he was with Pan America earlier this year, and called Sporster S a "paradigm shift." He recently visited Los Angeles to ride Sportster S, and he found the new bike to be extremely solid. He praised the subtraction of 60+ pounds from previous models, making it much more lightweight than its predecessors.
His test ride included a trip along the Los Angeles Crest Highway, Angeles Forest and Upper Big Tujunga loop, a challenging route that's not for sissies or their bikes. He praised the bike's grip with its big tires and its stability on corners. He summarized, "The new Sporster S has a great chassis, a great motor, a cool-as-hell aesthetic and a stiff but acceptable ride. I can dig it." Read the rest of the article here.
There's plenty more praise where that came from. CNET's Road Show says, "It might be the best looking Harley® since the Knucklehead." RevZilla's Andy Greaser describes it as "one of the most surprising motorcycles I've ever ridden." One after another, sources that are typically critics offer high marks and high praise.
Sportster S Where to Get
 So where can you purchase this phenomenon? We're taking deposits. Find out how to get yours, ask your questions, arrange for financing, talk about your trade or anything else on your mind when you get in touch.