The Road Glide Special is one of the most distinctive V-twins on the road, and for many has long been regarded as the gold standard when it comes to touring bikes. Before we started to turn one into a custom Road Glide Special, It came from the factory with plusses like this:
A powerful Milwaukee-Eight 114 engine, producing 123 ft/lbs of torque at 3000 rpm.
Incredible handling for long highway routes or twisty backroads, with a 64-inch wheelbase and 29.5-degree fork angle.
Capable Showa suspension featuring Dual Bending Valve Fork for a smooth ride on rough roads.
Incomparable comfort with a 27.4 inch seat height and roomy floorboards.
75 liters of cargo space that are easy to access with a one-touch releasing/closing lever on each saddlebag.
Updated BOOM! Box infotainment system with functionality common to tablets and touchscreen computers, able to be used by any glove in any weather.
Jerrad Jaspersen is Partner and Head of Construction at Dallas Outdoor Kitchens. He lists riding his motorcycle as one of his passions. Recently he trusted the service team at Black Gold Harley-Davidson® to help turn his 2019 Harley® into a custom Road Glide Special. We interviewed him about the process.
Why did you choose this bike?
Originally I wanted to go with a Street Glide and I had a friend of mine pass away, and he had a Road Glide. I had ridden it, and I knew it was the bike I needed to go with. I agonized over it for 2 years because I loved the way the street glide looked, but I ended up going with Road Glide because it rides the way other bikes don't. 
Did you know what you wanted to do to make it a custom Road Glide Special it or was it more of a process?
It was a process, I didn't really know. I knew I wanted it not to be like something people saw and said "that's a showy bike," because it's not. Have a deuce also and I went all out on it. It's a showy flashy bike, and I went the opposite with this.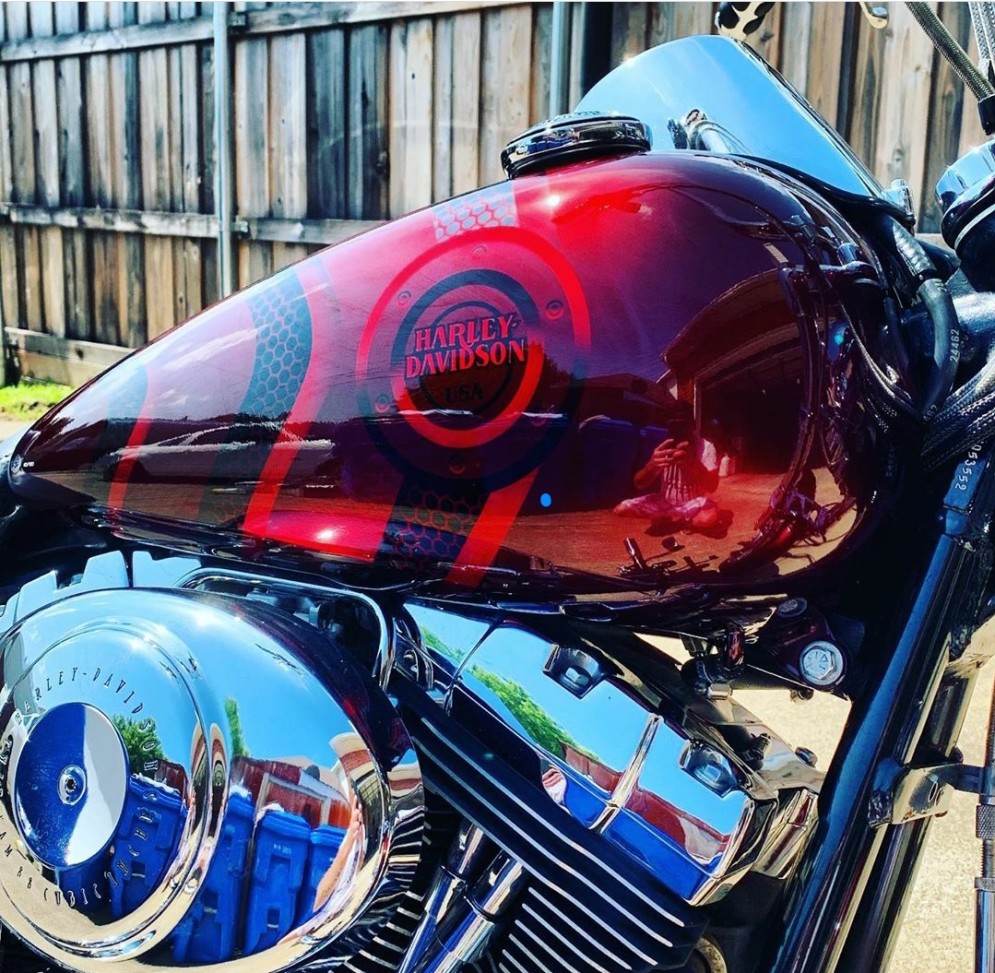 My whole goal was to not make it flashy, to make it kinda what you would call a sleeper. I started out with the stage 2 and a torque cam. The honeymoon didn't last long with that. I was going to send the bike off to Zippers to have them do performance kit and lo and behold, the day I was going to send it off, Harley released 131-inch upgrade. I went right in and said, "I want that." That's it as far as the motor.
It's just a good looking bike. I've put the Klock Werks 9" flare windshield on it. It has a mustache bar on it. It's a great looking bike and it goes really fast. 


What customizations made the biggest difference in terms of comfort?
The Klock Werks 14-inch handlebars without question are the biggest thing that made it more comfortable. Stock bars are just blow goats. They give you cramps between your shoulder blades. 
What about in terms of looks and performance?
I wanted to change some things about the looks of it. I kept everything black, so I had the rocker boxes changed out to black rocker boxes, the pushrod covers are black now. We put a Heavy breather on for the air cleaner. 
I researched everything and did it all very intentionally. I don't know anybody that has the bars that I have. These are different. And the windshield I found because I found the Klock Werks bars. 
What made you choose the service department at Black Gold Harley-Davidson®  to help with your custom Road Glide Special?
Because I know Brandon and Shane. That's my shop. 
Get Your Own Custom Road Glide Special
You can't have Jerrad's, but you can get your own custom build. Shop new custom Harleys® for sale at our Allen motorcycle dealership or start building your custom motorcycle wish list today.