Devil Dogs, Hot Rods, and Hogs Car and Motorcycle Show
Event location
Allen, TX
1007 State Highway 121, Allen, Texas 75013
April 24, 2021 9:00am - 4:00pm
Saturday, April 24, 2021 at Black Gold Harley-Davidson.  1007 E. SH 121 Access Rd. Allen, TX 75013.  Event will be from 9am until 3pm.  Cars/trucks will be judged at 11:00am and awards presentation at 12:00.  Bikes will be judged at 1:00pm and awards presentation at 2:00pm.  

Devil Dogs, Hot Rods, and Hogs: Car & Bike Show proceeds support local veterans through the Marine Corps League of Collin County,.  There will also be multiple other veteran organizations present to raise awareness about who they are and what they do to support the veteran local veteran community.  

Come out to participate, spectate, and support veterans.  There will be food, drinks, a DJ and live band, plus raffles, prizes, venders and more!


Veteran Organizations
Are you interested in participating in the event?  Would you like the opportunity to reach more veterans, share your mission with the community, and maybe raise some funds?  Contact us at:  Admin@CollinMCL.org


Vendors/Sponsors
Are you interested in supporting veterans through being involved with the event as a vendor or sponsor?  Please contact us at:  Admin@CollinMCL.org or visit or webpage: CollinMCL.org

*Gift Cards and cash prizes cannot be used toward new Motorcycle Purchases. See dealer for details.  Some restrictions may apply.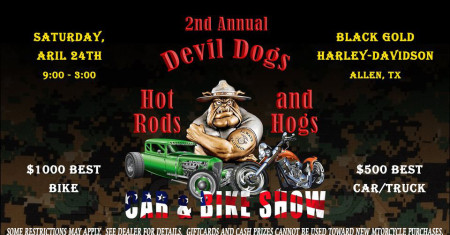 Back to previous page