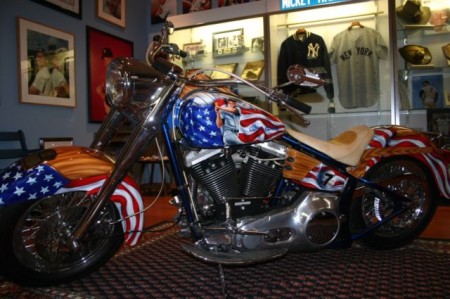 Many individuals feel like they grow up in their father's shadow - admiring them, looking up to them with pride and longing to see some measure of that pride returned.
In adolescence, that hero worship wars with the desire to be one's own person and the lurking fear they'll never stand as tall, never be a shadow of the figure that looms large in their memories and their hearts. Then, as they become men in their own right, they fight some of the same battles and some that are unique. More often than not, when they look in the mirror, they see their father reflected back in ways they never expected.
There's almost always a need for adjusting perspectives. Sometimes there's a need for forgiveness. For the lucky ones, both generations offer each other grace and find love and respect that is deeper, more mature with age.
And that's for just men who grow up with regular fathers. It's even more complex when your father is an actual legend. David Mantle's father was one of baseball's greatest Major League baseball players, Mickey Mantle. The Commerce Comet was a Triple Crown winner, 16 season All-Star, three-time American League MVP, and set a long list of pro baseball records.
Mickey was selected an "All-Star" for the first time three years before David was born. Two years before, he was on the cover of Time magazine. Before David could walk or talk he became the only player to win a league Triple Crown as a switch hitter. But this article isn't so much about baseball stats as it is about the relationship between a son and his father, about accepting both the best and the worst in those we love and about celebrating their impact on the world.
Life as Mickey Mantle's Son
Most people assume being Mickey Mantle's son would mean living a life of luxury and fame. David and his brothers definitely had unusual childhoods, but not always in the ways you would expect.
For months at a time David, his three brothers and his mother lived in Dallas, thousands of miles away from where The Mick played in the Bronx. But David also spent springtime in Florida and summer watching his father hit home runs.
Winters, Mickey took his boys hunting and played football with them. But everywhere they went, having a famous father made life complicated, with crowds of people always wanting a signature, hoping a little bit of the magic would transfer by association.
Mickey Mantle was a legend to the world, but his wife and children also saw his humanity, his frailty. The fastest man to first base started his career with acute, chronic injuries in the bones and cartilage of his legs. He played every game with pain that would bring most of us to our knees.
Despite his phenomenal success, he struggled with the idea he wasn't good enough. He worried he hadn't measured up to his own father's expectations, that he should have been better at baseball, that he should have been a better father to his sons.
"He always thought he wasn't a good father, but we told him he was a great father," David told CNHI News. He shares how he and his father got closer in adulthood playing golf, traveling to baseball card shows, watching old home movies with him at home.
In a letter to Mickey's fans, David and his brother Danny said, "He never left his family and always made sure we were well taken care of. He had a heart of gold, always thinking of others…we are so proud to call him Dad."
A Custom Harley® as a Tribute
Mickey died in 1995, and in 1996, David started building a custom motorcycle in his honor. "After he passed away," David said, "I decided I wanted to build a bike that would show my dad's career in as many pictures as we could get on it. Basically I just wanted to show my love for him."
David started with a 1996 Softail Standard with a standard Evo engine and over the next few years, turned it into a breathtaking example of what a custom Harley-Davidson® can be. He says he chose a Softail for his canvas because he "Wanted to make it look like 50's style knucklehead engine, because that was when dad played baseball."
He began with the idea of showing his father's career in pictures, but getting there was a process. "We must have changed our minds I don't know how many times," he said. "The paint changed three or four different times. The guy that finally did the paint (Robert Rodriguez) did an excellent job. That's why I'm scared to ride it now, I don't know if even Robert could duplicate it again."
The Results – An Epic Custom Harley® Softail
David, Harley-Davidson of Dallas and Robert Rodriguez achieved the resulting custom Harley Softail by starting from scratch and using only genuine Harley-Davidson parts. Here are some of the customizations that make this tribute to Mickey Mantle so extraordinary:
Wide beach bar handlebars with minimal controls and instrumentation for a clean, retro look
Yankee pinstripes on the tank
Faux Louisville Slugger woodgrain on front and back fenders
Scenes from Mickey's career and a reproduction of his Hall of Fame plaque on the tank and fenders
A custom motorcycle seat made from baseball glove leather
A Custom Harley® That Helps Others Remember
Davidtold Pinstripe Alley he was in high school the first time he realized how much his dad meant to other people. "I was at an Old Timer's Game at the old Rangers stadium. It was 1974….When they introduced dad, that was the first time I realized what he meant to the fans when they stood up and cheered. It brought goosebumps and made my hairs stand up. At that moment I really realized how big of a deal dad was to baseball."
In a way, David's custom Softail is a gift to Mickey's fans. "I wanted fans to be able to walk around the bike and see parts of dad's career. To remember him," he said. "On back fender you see him waving goodbye. It's on the back fender, and it's like he's walking up to heaven." David says he's thinking about displaying the bike in an Oklahoma museum that currently exhibits a collection of Mickey Mantle memorabilia so more fans can enjoy it.
David Mantle's custom Softail looks to and honors the past, but it also carries that memory into the future. "My daughter Merlyn loves it. She calls it Papa's bike," he chuckles affectionately.
Father's Day is for honoring dads, and it's also a time when we struggle with finding a way to express how much our dad means and how deeply we admire and respect him. David started his bike the year after he lost his father, missing a man whose presence had always been felt, who was suddenly gone. You can feel his sadness in this poem prominently positioned on the tank.
"My Father"
Can I touch your face…
Can I hold your hand…
Can I give you a hug…
Again and again…
Can I say I love you…
You're also my friend…
My father."
-David Mantle
The bike was a labor of love and is a testament to the strong bond between father and son. "It's just what my dad would have wanted," David said.
Award-Winning Custom Motorcycle
The motorcycle has won top honors at events featuring some of the country's most exceptional bikes, including "Best in Show" at the Easy Rider show. It's been on display places like Mickey Mantle's Restaurant in New York, Minute Maid Park and the George Bush Presidential Library and Museum. You may have seen it during winters at our Allen TX Harley® dealership.
David Mantle trusted Harley-Davidson® of Dallas, soon to be Black Gold Harley-Davidson® to help create his custom Softail because, "That's where I buy all my bikes and where I've done most of my business, we just clicked and got along pretty good." For personal use, he currently owns a 2018 Ultra Glide.