Whatever you picture when you hear the word "biker," it probably isn't Loren Swanson. But you probably would have zero trouble picturing her as a Dallas Cowboys Cheerleader, since there are still photos in circulation from not that long ago when she actually was one. Loren may have changed occupations, but she's still dedicated to encouraging others be their best. Only now, instead of cheering for football players, she's cheering for women motorcyclists.
How Loren Got Into Motorcycles
Not many years ago, Loren's father-in-law passed away and her husband inherited his 2001 Softail Deuce. "It had a carbureted engine, it was heavy, it was loud," she recalled. "We won the loudest pipes contest three times with that bike."
Loren grew up riding dirt bikes and racing three wheelers but hadn't driven a motorcycle. "Sometimes the bike would be in my way, so I had to learn how to move it," she said. "It being his dad's bike, I didn't want to hurt it." She explained her concerns to her husband, and he showed her the basics of moving the bike around. Then, on her birthday he gave her a motorcycle class. 
"It rained the entire three days," she said. "It was miserable. And the teacher didn't care.
"I was one of two girls in the class, and the instructor was pretty intimidating…I failed the driving portion of the test on the last day. I felt like it was a very unfair situation because the other girl also failed. He told me on the cone weave I missed one of the cones.
"My rain gear wasn't actual motorcycle rain gear. My gloves were soaking wet, my jacket was soaking wet…My husband went and talked to the owner of the dealership and asked if I could have another chance." That time she passed with flying colors and has been riding ever since.
Loren had her eyes on the 30th Anniversary Limited Edition Fat Boy, the original fat custom icon similar to what she grew up watching Arnold Schwarzenegger ride in Terminator 2. Her husband bought her the bike and since then it has been her passion to inspire other women to ride on their own.
Cheerleader for Women Riders
Loren and her husband go out of their way to encourage women to experience motorcycle riding for themselves. Loren uses social media to network with riders all over the U.S. The couple goes on rides almost every weekend and plans longer trips for the groups they've helped bring together. They've even gifted motorcycle riding courses to people who have expressed an interest in learning to ride for themselves.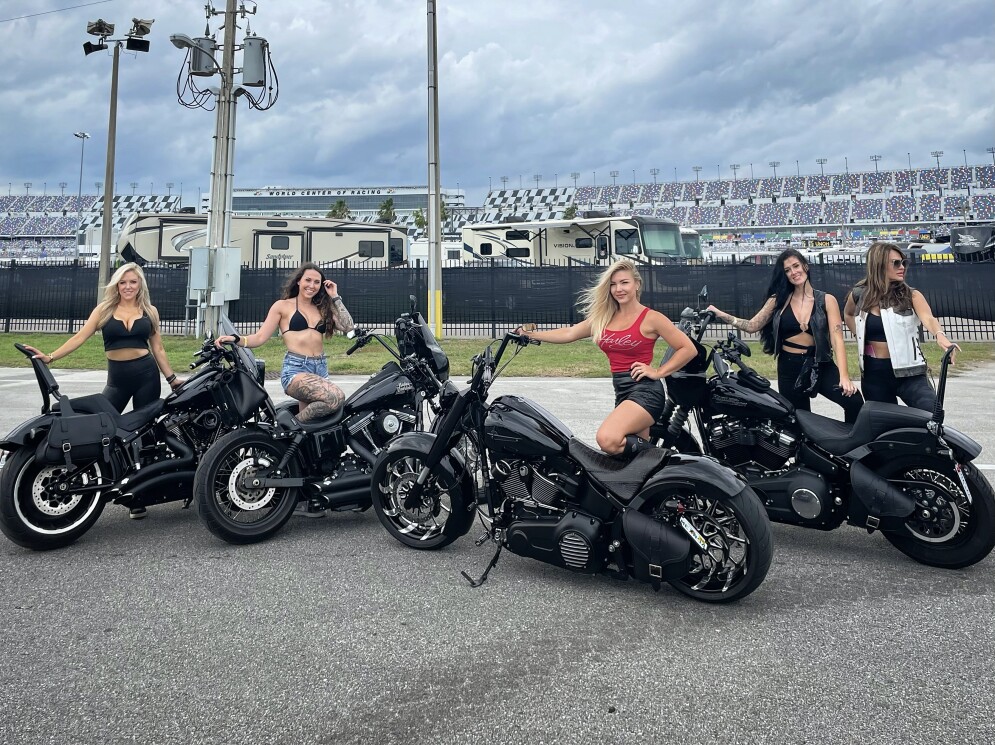 When asked why she was so passionate about encouraging women to ride Loren said, "I just feel like the freedom I experience when I'm riding, I cannot explain it in words. It is just so empowering to know you can just be on the machine and be one. And I want other people to be able to experience that.
"I've always been a huge advocate for women. A lot of women just don't think motorcycles are for them, and I want to change that idea."
The Voice of Experience
Loren says she frequently talks to women who inherited a bike or bought one but don't spend much time riding it. They commonly express their hesitation with statements like these:
I don't feel comfortable on my motorcycle
That bike is too high, my feet don't touch the ground
I don't always feel safe riding alone
It hurts to hold the throttle
"Providing solutions for those types of issues is something I feel equipped to do," Loren says, "Because I've had experience testing out things." She talks them through using things like protective gear, the right gloves, a com system (she uses Cardo), a throttle assist or throttle paddle, the right kind of seat and so on.
She didn't always get it right the first time either, and she's willing to share her learning process. "I've changed my bars four times. I've tried a ton of seats. I talk to the aftermarket people and ask how they can get me in a riding position where I'm most comfortable."
On Sturgis 2022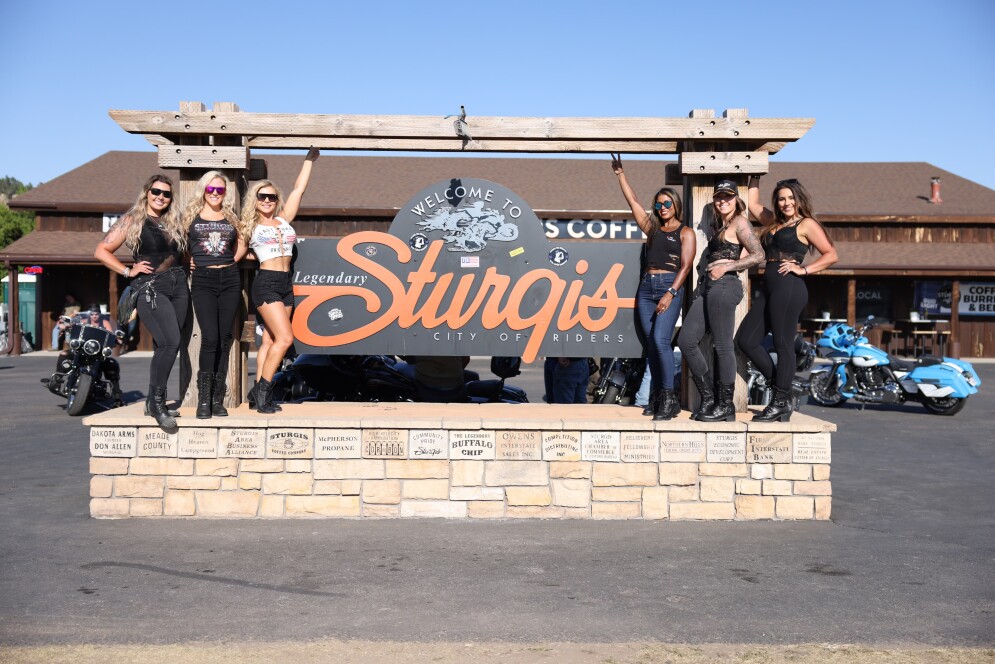 Between bike nights, motorcycle rallies, social networking and events, Loren and her husband have made friends from all over. Recently they met up in South Dakota with a group of 14 riders for Sturgis 2022. A group of six drove from Texas, while the rest came from all over the U.S. and Canada.
"We did some incredible rides while we were there. Needles Highway was amazing. The views were phenomenal. There are little tunnels you go through where they block one side off. We got good footage from the go pros.
"Custer State Park and Iron Mountain Road are also really great rides. We went to Spearfish Canyon. And I got to Do Mount Rushmore, that was on my bucket list since I was a kid. Crazy Horse Memorial – that was interesting learning about the history.
"In the afternoons we met with vendors. All of us have mods done with our bikes and wanted to meet them. We did downtown Sturgis several times and all the major nightlife places like Full Throttle, the largest blue collar motorcycle bar. It was a beautiful sunset that night and amazing seeing all the bikes."
She also recommends the ride to downtown Deadwood. "That ride just had great curves, and you're going through the mountains so you're experiencing those changes in temperature and wind flow. There are creeks running down the side of the road, beautiful flora and waterfalls off the sides of cliffs. Then there was a historic downtown and streets lined with bikes. You really feel like part of the culture."
Staying Connected
Loren intends to keep growing her network of women riders. "I'm passionate about keeping everyone connected and my husband is too. He takes care of the logistics for the big trips. I'm the cheerleader to say, 'hey meet me at the dealership and test ride,' or 'hey sit on my bike.'"
If you want to connect with Loren and her growing group of women riders you can find her on Instagram @Lo.swan. "The people in the moto community are the kindest, most genuine people I've ever met. No matter the distance, the love and support is always there," she says. It really breaks all boundaries and barriers," That's what I love about riding motorcycles and what I want women to know."