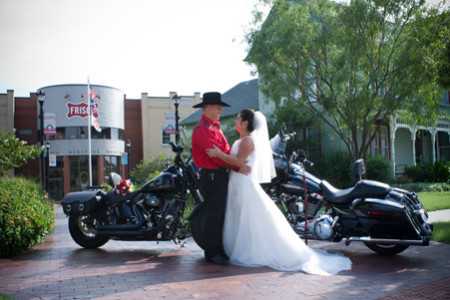 Tina had never ridden a motorcycle until she met the love of her life. One of his profile photos on dating app Match.com showed David, the man who later became her husband on his Street Glide®. She still couldn't tell you if the man or the motorcycle was what made her decide to get in touch.
Their first conversation was about David's bike, and the two felt an almost instant connection. David was the first person to give her a motorcycle ride. As her attraction to him grew stronger, so did Tina's interest in motorcycles.
LEARNING TO RIDE A HARLEY-DAVIDSON®
If you met Tina outside of a Harley® event, you might not expect her to be a motorcycle enthusiast. To begin with, at 4'11" she's officially tiny. Behind her big grin and dark eyes is a woman who never backed down from a challenge.
At first, she just wanted to know more about motorcycles and motorcycle safety. She loved riding as a passenger with David, and Harley® was offering a free-riding course for Veterans. Tina served in the Navy for four years, so she signed up for the course.
Her first motorcycle was a 2016 Sportster® 1200. "I only rode it a few times," she said. "It just ended up being top-heavy and I had trouble being able to handle the bike on slow speed maneuvers. I kept dumping it when I pulled into the driveway."
"I joined Open Road Girls on Facebook to filter through what other people were saying and ask questions," Tina said. "A lot of people said the Softail® was a good bike, and I found the Slim had the lowest seat height. People said they had a better center of gravity, a better ride and they were easier to lower and to customize."
A HARLEY® FOR CHRISTMAS
Tina didn't have a relationship with any dealership, so she shopped around for a Softail Slim® to replace her Sportster®. David had purchased from Harley-Davidson® of Dallas, the dealership that eventually became Black Gold Harley-Davidson before, and on Christmas Eve the couple found themselves at the Allen Harley® dealership.
Tina found what she was looking for, and employees stayed to help them complete their purchase. She said even before modifications, the Softail Slim® was a much better fit.
The bike was at Black Gold Harley-Davidson® in Allen for a few weeks while they used lowering blocks to drop it an inch and a half and added a reach seat with a backrest. "It really hugs you and makes you feel secure," Tina said. "I put 7,800 miles on that bike in just over a year."
HAPPILY EVER AFTER
They met because of David's Harley-Davidson® and their love of the lifestyle was something they shared, so the couple decided to include their bikes at their wedding.
This is how you ride to happily ever after.
A HARLEY® HONEYMOON
David and Tina rode 3,800 miles on their two-week honeymoon. They went to Milwaukee for a Hog rally, rode to Detroit to visit family and met friends in Eerie Pennsylvania. They visited upstate New York near Syracuse then visited Niagra Falls. From there they worked their way through Ohio, Kentucky, Tennessee, Arkansas and back to Texas.
They stopped at 13 motorcycle dealerships along the way. They also visited the Harley® museum and power plant in Milwaukee.
I asked Tina if it was hard to spend that much time on a bike. "My husband has been a great mentor," she said. "He's very protective, I just followed his lead. I felt excitement every day."
TINA'S ADVICE FOR WOMEN
This past Christmas Tina fell in love again…with a Street Glide®. "I never imagined I would ride a big bike," she said. "I fell in love with one at our H.O.G.® Christmas party. We were volunteering and I kept walking by it. Paul (dealership co-owner) told Jason (custom motorcycle expert) to lower the suspension and customize the seat just to see if I could feel comfortable with it. They did all that before I even committed to buying it."
The experts Black Gold Harley-Davidson® wanted to find a way for Tina to ride her dream bike. They dropped the motorcycle four inches and found a modified seat that got her an additional inch closer to the ground. Reach handlebars also helped. Tina says she's on the balls of her feet, but the bike is even more balanced than her Softail Slim®. She went over 10,000 HOG miles in November.
2018 Street Glide Special in Twisted CherryShe advises new women riders to find good mentors. "Practice. Find a local chapter or someone who gives lessons. I watched a lot of videos and talked to a lot of people. I'm always open to advice. Don't be afraid to ask questions for sure. Educate yourself constantly."
You might bump into Tina and David at Black Gold Harley-Davidson® in Allen events. If you haven't found your dream bike yet, shop their new Harley-Davidson® or used motorcycles for sale near Dallas. And if you haven't found the love of your life yet, maybe you need to get a Harley®!