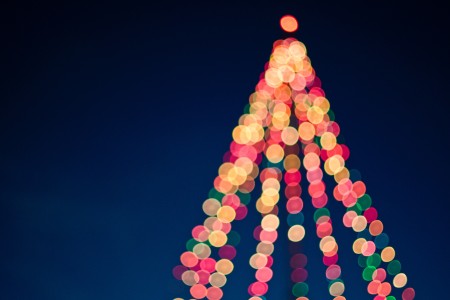 The weather around Dallas has been pretty unpredictable this holiday season. However, there's a good chance we have at least a few warm days when the road beckons you for a ride. We've gathered some of the best places to enjoy the sights and sounds of the season. Some you can make into a day trip, others you might want to plan for a weekend. Let us know your favorites to add to the list!
A GERMAN CHRISTMAS IN FREDERICKSBURG TEXAS
When you look up motorcycle rides in Texas, one of the hill country choices that always comes up includes the Good Ol' Texas Loop, a route that rolls through Fredericksburg, Texas. You'll make a wide loop toward the west, with plenty of cafes and points of interest along the way.
Fredericksburg has a quirky mix of German Christmas traditions and Texan independence. During the holidays ride down Main Street with its magnificent lighting display, then wind through the surrounding area to see historic homes decorated for Christmas. On weekends warm up with Fredericksburg Theater Company's "Winder Wonderettes" at the Steve W. Shepherd Theater or ride on to Lyndon B. Johnson State Park and Historic Site to see the stately LBJ Tree and decorated nature trails. Then shop more than 150 vendors to fill your saddlebags with gifts for everyone on your list.
Fredericksburg made our list because the ride there is fantastic and the traditional feel of the entire town is sure to get you in the Christmas spirit. The town's website has links to lodging at bed and breakfasts, hotels/motels and campgrounds.
WONDERLAND OF LIGHTS IN MARSHALL TEXAS
The ride to get there isn't as pretty, but the town itself is worth the trip. Stay off I-20 and map your route with as many back roads as possible and you can still make this a day trip. Even so, Marshall is magical at night. If you don't book a place to stay, you'll wish you had.
Their Wonderland of Lights runs through December 30, and it's famous across the state. Trade your motorcycle boots for ice skates at the outdoor ice skating rink. Ride the Holly Trolley through downtown or hop on the restored vintage 1948 Herschel carousel. Seriously, nothing makes a better selfie than a biker on a carousel horse. Make sure you share it with us.
At Telegraph Park, dance with your partner to live music by local musicians. Check the season's calendar for special events sprinkled throughout the season.
The Wonderland of Lights is closed Mondays, Christmas Eve, Christmas Day and New Year's Eve.
HISTORY AND BEAUTY IN JEFFERSON TEXAS
Hit the road early and stop for breakfast at Foxhole Bar and Grill in Quinlan. From there cross Lake Tawakoni and Lake Fork as you head toward Winnsboro. Map the less traveled roads for breathtaking scenery around Lake O' the Pines, then circle around to Jefferson. You'll enjoy the ride as much as you will what you find when you get there.
Jefferson is a history buff's dream any time of year. This small town has over 100 historic landmarks, restored buildings, museums and churches. On weekends in December park your bike and hop on the Christmas Express, an antique gas-powered train. The two hour trip takes you through the Big Cypress Bayou with Christmas-themed narration along the way.
Spend the night at the historic Kahn Hotel, one of the top ten most haunted in Texas. Even if you stay up all night waiting for the ghost of Christmas past, the hotel's organic coffee, lattes and cappuccinos will perk you right up in the morning.
HOLIDAY EVENTS AT BLACK GOLD HARLEY-DAVIDSON® DALLAS
Like we said, you don't have to ride far for entertainment. This weekend we had our Winter Fashion Show event, but if you missed it there are two more weekends before Christmas.
December 15 be at our Allen dealership for our annual Photos With Santa, Christmas cookies, hot cocoa and Christmas activities for kids. The photo line opens at 10:30.
Then leave the kids at home on December 22 for photos with BAD SANTA! This adults-only event takes place from 12-4 p.m.